FROM POVERTY TO PROSPERITY
AT BISSELL CENTRE, ANALYTICS DRIVES LIFE-CHANGING OUTCOMES FOR FAMILIES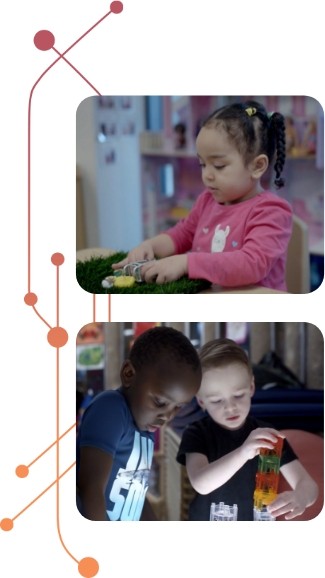 Jesika Lefebvre didn't want to go back to work. Not because she didn't love her job at Bissell Centre, a nonprofit organization based in Edmonton, Canada.
It was just that after eight months of parental leave, she wasn't ready to spend the day apart from her newly adopted son Alex, who was not quite 3 years old at the time. Luckily, she knew exactly how to solve that problem – she brought him along with her.
Bissell Child Care Centre shares the mission of its parent organization, which is to move people in the community from poverty to cultural, social and economic prosperity. And it's not unusual to find children there who, like Alex, have been in the foster system. That made the Centre uniquely suited to address what Jesika calls Alex's "big behaviors" – thanks to a staff and organization who do this kind of work every day through the part of its child-care program that supports low-income families.
"It's fantastic going to work in the morning and knowing that he's in a place where he's loved just as much as he is when he's at home and he's going to receive the same amount of attention as if I was home with him," Lefebvre says. "And he's going to have even more opportunities and get to learn even more things and make more friends and learn more cultures and learn more different ways of doing things than I can even teach him. And that's such a special thing."
'A POWERFUL LANGUAGE'
The Centre's Early Childhood Development program – which provides full-time childcare as well as a drop-in/respite program that provides low-income families with free temporary childcare for things like job interviews and medical appointments – is obviously very human-centric.
But behind the scenes, Bissell Centre makes its work possible through the use of data and analytics.
"Because we care so much, we want to make sure we understand what's really going on," says Bissell Centre CEO Gary St. Amand. "We want to know: Are we actually helping people and their lived experience of poverty? Not just make assumptions about the actions that we're taking."
Jakob Koziel, senior research analyst at Bissell Centre, notes the organization has a bit of a data paradox: The amount of data it collects is almost overwhelming, yet missing data and small sample sizes persist in some areas.
That means Koziel and team have to use creative analytic methodologies to suss out their insights.
While initially, much of the work focused on outcomes data, Koziel is eager to dive deeper into statistical modeling and machine learning, and potentially looking at predictive analytics. So not only would Bissell Centre be able to show policymakers and partners the results of its work, but it could also influence the way it does that work to increase effectiveness.
BREAKING THE CYCLE
The child-care program is a prime example of learning from the data. Obviously, the nurturing environment had terrific outcomes for the children themselves, but the respite program, especially, tends to have farther-reaching impact on families as a whole.
For a parent who doesn't otherwise have access to childcare, it can be the difference in being able to secure housing, stay healthy or save a business – all critical in breaking a cycle of poverty.
"Children who are born into these families who are within poverty may not have access to basic needs things like clothing, food, shelter," says Jaye Brown, director of Bissell Child Care Centre. "It's about having that compassion and knowing that it was not by choice for that child to be in this situation."
For Lefebvre, the day care was about building the tools for Alex's future success, not needing to elevate the family out of poverty. Even so, that can have an impact that very much aligns with the Centre's mission.
"His biological family is a long line of individuals that have been part of the foster system," she says. "So I really hope for his kids that it's breaking cycles, that he's able to be a parent and find what he loves, whatever that ends up being."
MILKING DATA FOR A SMARTER CHEESE FACTORY

Any way you slice it, analytics can optimize cheese production - and reduce food waste.
DOING JUSTICE TO MENTAL HEALTH NEEDS

The data is undeniable: Access to mental health care has a significant impact on criminal justice involvement. Knowing this allows us to transform the mental health system so everyone who needs high-quality, culturally competent care gets it.
Curious about SAS and the analytics that empower organizations everywhere?